About DDS
皮膚醫學專業
基於皮膚結構與生理機能,研發安全有效的保養品,讓效果看的見。
親膚安全配方
原料安全承諾,符合國際標準ISO22716。
無添加易致敏成份(無酒精、無甲醛防腐、無 MCI/MI、無苯甲酸脂類、無基因改造)。
包材相容性達6道測試,穩定性高。
品質親身測試
皮膚科醫師暨專業團隊(藥師、護理師、美容師)親身測試,堅持給消費者安全有效及高品質的保養品。
保養效果加乘
適合各種年齡肌膚的居家保養、醫學美容治療後立即使用,加強皮膚防護力
保濕鎖水,使肌膚留住水分,防止肌膚衰老。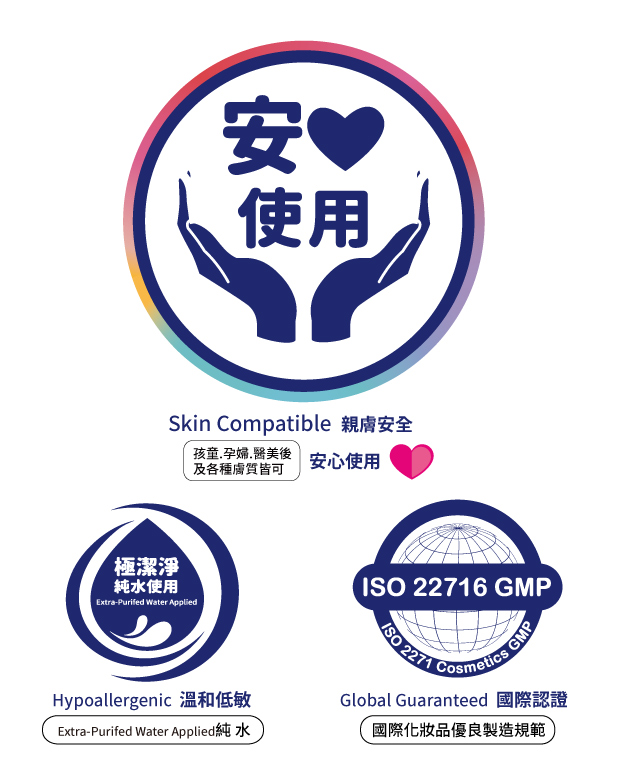 BRAND SPRIRIT/INTRODUCTION
Profession, Quality, Aesthetics, Perseverance
The safe and effective skin care products of DDS (Dermatologist designed system) are developed by dermatologists under the core concepts of aesthetic medicine. The active ingredients of the products are carefully investigated as the most skin physiology compatible through research from the best evidentmedical literatures.
Anti-aging and moisturizing technology of skin research centers of Germany and French is utilized and the production of all the products meets the guidelines on good manufacturing practices (ISO 22716) and the guarantee of no controversial substances added.
"Perfect skin, Confident life" is our vision as to crate the ideal skin care products that are suitable for healthy skin, damage skin and even diseased skin. Our productshave been highly recognized and recommended by dermatologists and consumers.Hospitals, clinics and professional skin care centers are fields of selling markets.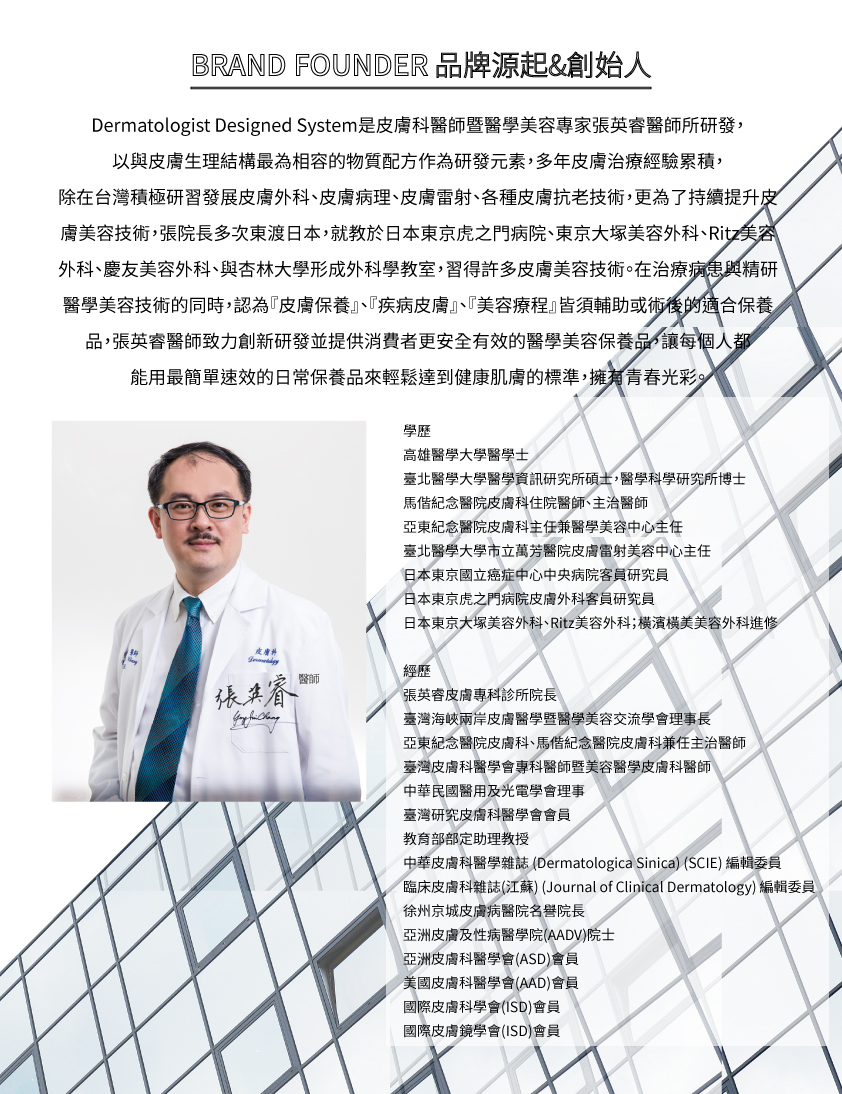 Founder/Origin
Dermatologist Designed System (DDS) is founded by Dr. Eric Ying-Jui Chang who is a well-known dermatologist and medical aesthetic expert in Taiwan. Dr. Ying-Jui Chang is currently the superintendent of the New Taipei Institute of Dermatology, active member and director of board of several distinct academic societies including American Academy of Dermatology and Taiwanese Society of Dermatologic and Aesthetic Surgery. Prior to opening his clinic in 2012, Dr. Chang has served as director of dermatology and medical aesthetic center at several medical centers. He specializes in using skin care products, energy-based devices, fillers and toxins, and dermatologic surgery. Based on the experience of treating skin diseases and aesthetic medicine, Dr. Chang is active in engaging the research and development of the safe and effective skin care products. He believes the use of most skin physiologic structure compatible materials as the elements of active ingredient will be suitable not only for "skin care", but also for "diseased skin" and "post procedural skin".Therefore, the DDS skin care series are created for the purpose of simplest and effective way to promote the skin healthy and beauty. Dermatologist Designed System-DDS SKIN CARE